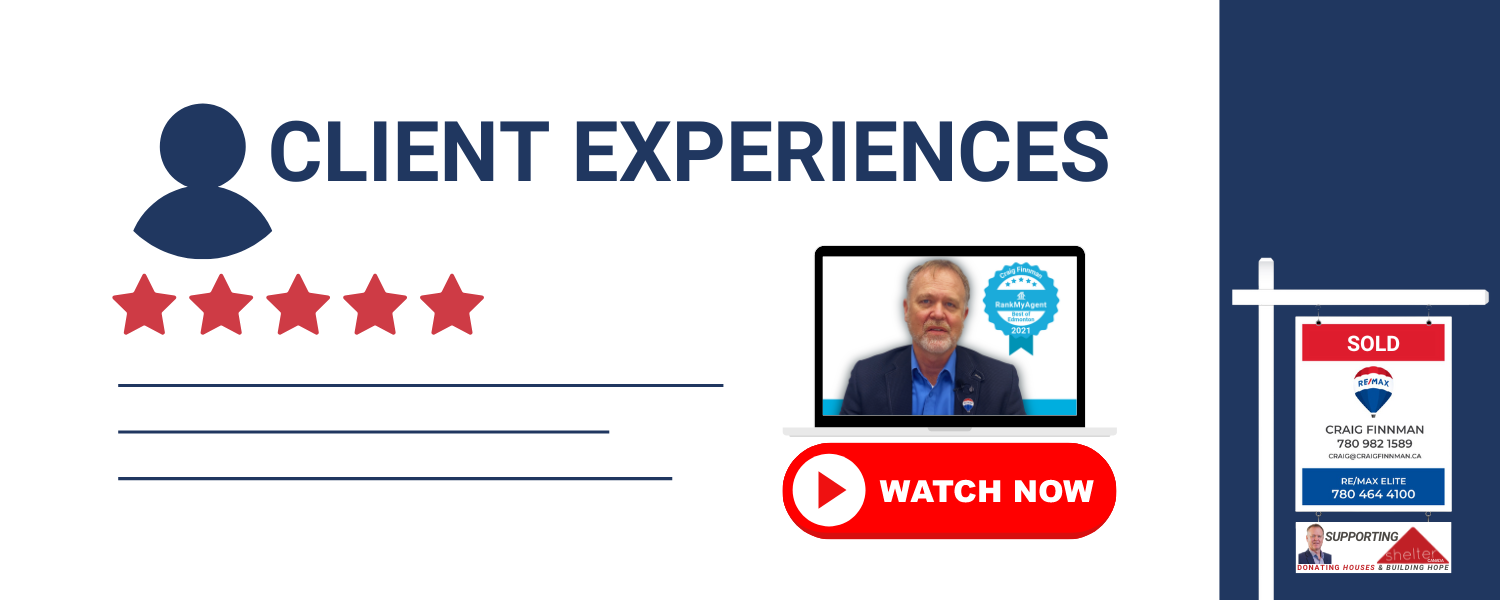 Testimonials
My real estate business is based on referrals.
I work hard for my clients because I want every client to be 100% satisfied with my approach to their unique real estate transactions. Reviews and referrals are the biggest compliments I can receive as a REALTOR®. To all my past clients - I would be honored to include you on this list!
Debbie & Bob
Craig and his team recently helped us to sell our Edmonton home. From start to finish our experience was a positive one. Craig's team is highly professional, offering expert advice with regards to market value. Their help with staging our home, readying it for viewing and then making appointments was so appreciated. When it came to negotiation time Craig really showed his expertise and we are very thankful to have chosen him to list our home. Thank you Craig and team!
Marisa
From beginning to end, Craig was just phenomenal. He is very professional and accommodating. We are now very proud home owners and Craig really helped us narrow down the options. Craig has been in the business for a very long time and we trusted every ounce of advise he gave us. We highly recommend Craig for future home buyers!
Sandy
Craig was referred to me by a friend when I was ready to purchase a home. As a first time buyer, I was pretty nervous. He signed me up with his Collaboration Centre which was great! I could view on-line, the available homes that fell under my guidelines, on my own time.
Craig really came through for me when I made a choice and helped me make my final decision. Not only his knowledge of real estate, but his understanding of what I was looking for and why. I would definitely recommend Craig to anyone looking to sell or buy a home.
Brent
Craig was very professional throughout the process of selling our house and then guiding us through the process of purchasing our next family home. Craig is very knowledgeable of the market, armed with an amazing team and tools to help ease the entire process. WE SOLD IN UNDER A MONTH!
Thanks, Craig for being responsive, calm, courteous always and keeping us informed throughout; we can not speak higher of you and would highly endorse you to any family or friends in the market. It was a pleasure to deal with you! Thank-you.
Diana
Craig was recommended to me from a realtor outside of Edmonton, and I was not disappointment from the moment we connected. He was prompt to return my phone call for the initial conversation of listing my home for sale. He was very open and honest with regards to the time of year and my concerns with listing my house so close to Christmas. With a lengthy discussion I was on board and he quickly set the date to officially list my home. He is more than just ready to sell your home, he is ready to assist you in feeling comfortable with selling your home. I received feedback promptly after viewings and was provided with any and all information with regards to selling my property. My home sold during the slower time of year and I believe it was due to the careful attention to detail and confirmation my home was staged as best as possible, thanks to Craig's assistant Rhonda. I would recommend Craig if you wish to list your property for sale.
Nishit
I bought a house on the Southside of Edmonton and Craig assisted me with the whole house deal which I really wanted. He was really very knowledgeable and patient through this whole process. The deal we were working on was nearly an impossible as the Seller was being a little indecisive (took 3 months of back and forth) and finally Craig came up with the deal when all hopes were lost. I would definitely recommend him. In my mind Craig is one of the best realtors in Edmonton. He gets the job done when it is needed and you can count on him even if you just need a basic advice or guidance realty services. Thanks again Craig for assisting me with the house purchase again.
Patrick
I met Craig a few years ago. My cousin had just passed away and left behind some real estate properties. I needed to sell the properties and Craig was recommended to me by the Bank I was dealing with. Craig was able to sell properties on time. He was very professional. There were challenges and Craig handled every one with his knowledge and experience I could not have done this without him. If I ever decide to sell again, I will call him. Ever since, Craig has maintained contact with me. I am thankful about that. If you need a realtor who cares and gets results, I recommend Craig Finnman.
Kalu
Thank you Craig Finnman for expediting the sale of our house in McConachie area of Edmonton so quickly. My wife and I were fortunate to have selected you to sell our home. Craig is knowledgeable of the market and assisted us to correctly price our home. Your attention to detail and advice helped us prepare for the sale and we appreciate all that you did to get the house sold in less than a month.
Mostly, we appreciated working with Craig because he always showed INTEGRITY and PATIENCE, virtues that I find most commendable in a Realtor."
We are very pleased with all he did for us that we have already recommended him to some of our friends who want to sell their property.
Gary & Charles, C&G Renovations
After working with Craig for the past 12 or more years, I have come to know his dedication and reliability as a professional realtor.
He provides loyal and honest evaluations to all his clients, with integrety. Always open to any questions you may have, and listens to ones opinions and ideas. He responds promptly when ever I have called him, and has never dissappointed in following through.
I have worked with other realtors and property management companies; and would endorse and recommend Craig to anyone looking for satisfaction in your real estate needs. With him, you will get it.
Ruth & Bill
We just sold our Sherwood Park home with Craig. We have lived here for 44 years and had no idea how to sell. Craig and his team helped us stage our property and arranged many viewings. WE SOLD IN 16 DAYS. We cannot find enough positive things to say about this team's dedication, professionalism and expertise. We told Craig that we want to move to British Columbia. He connected us with an excellent realtor so that we have already bought our next home and are prepared to move. This was a total WIN, WIN result. Thanks Craig. We highly recommend this realtor and give him 5 stars!
Dereck
Craig is calm, consistent, knowledgeable and creative. The sales process was extensive enough for us to feel we were making the right choice but was never overwhelming. Seven yeas later, we are still in the same house and have confidence in recommending Craig to others.
Stephen
I was recommended to Craig from an external Remax agent for condo shopping in my area. Craig is honest, straightforward, and very easy to make arrangements with. With Craig's help, we narrowed down 400 listings down to 4 and was able to close the deal in a very timely matter on the property of my choice. Highly recommend his services, probably the least stressful way to buying a home.
Pragati
Being a newcomer in Canada buying our own apartment instead of renting one, was a dream for me and my husband. But with help of Craig, the whole purchase process went so easy, otherwise real estate matters are always been so complicated for me. His suggestions, and way of approach are so friendly. I feel glad and fortunate that at my first experience of property purchase - I got the right realtor to deal with.
The Vargas Family
We found Craig by luck! We used him with the purchase of our first home. He was professional, reliable and flexible. We will continue to recommend him to anyone!!
Abiola & Tolulope
A very good professional experience we had with Craig as our realtor, and I am proud to recommend his service to anyone looking for a home to buy in Edmonton area.
Howard
Craig assisted my parents in selling their home under difficult circumstances, as my mother was diagnosed with Alzheimer's Disease and therefore unable to accommodate home viewings or even signage on her lawn. Using discretion and sensitivity, Craig was able to find a buyer within two weeks at an agreeable selling price. I was impressed with his compassion, understanding and patience even while faced with such a challenging situation. I would wholeheartedly recommend Craig as a competent and trustworthy real estate professional.
Phillip
My wife and I found a beautiful house on the realtor website - naturally it was a Sunday, but were were very interested in taking a look at it. I called Craig who was able to set up a viewing for the same day. From the start, Craig was very professional and never once made us feel pressured at all. Never once did we feel uncomfortable with the house buying process. He explained the process of buying our first house and helped us a great deal in the negotiation process. I would highly recommend Craig to anyone!
Victor
Craig and his assistant Rhonda provided us with excellent assistance to sell our home. I think it was either the second or third person who looked at our place that made an offer that we were happy to accept and the deal was done! Craig's guidance to know how to price our place and to get it ready for viewing was first class.
Jamie
Craig sold our house in a tough market and helped us buy our new house. Great guy, professional and gets the job done. Highly recommend!